Join CUNY Law Review for some exciting spring events!
Welcome Back Happy Hour
We invite the whole CUNY School of Law community to join us for a welcome back happy hour!
Tuesday, January 17, 2017 | 6:00pm
Bierocracy
12-23 Jackson Ave.
Long Island City, NY

Bluebook Training
Join us for our semiannual Bluebook Training! We'll review common errors, oft-forgotten rules, and correct some sample law review citations together. Please bring your Bluebooks, any office supplies you use to mark important pages, and your computers!
Thursday, January 18  | 1:45-2:45pm
Room 1/202
CUNITY Conversation
Join us for a discussion with Cassie Veach, CUNY School of Law 2017, and Shailly Agnihotri, Founder and Executive Director of The Restorative Center (TRC), about their article Reclaiming Restorative Justice: An Alternative Paradigm for Justice that will be published in CUNY Law Review's 20th volume, issue 2.
Wednesday, February 8  | 6:00 – 7:30pm
Room 1/202
Dinner & refreshments provided.
Editor to Editor
Join us for a discussion with Jorge F. Gómez, our current Editor-in-Chief, and Paul Keefe, former CUNY Law Review Editor-in-Chief Class of 2007 and Supervising Attorney at NYC Human Rights Commission.
POSTPONED DUE TO SNOW DAY. MORE INFORMATION TO FOLLOW.
Thursday, February 9  | 7:00 – 8:30pm
Room TBD
Refreshments provided.
Symposium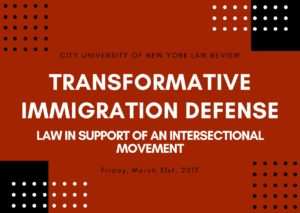 CUNY Law Review will host a symposium exploring the role of legal practitioners at the intersection of aggressive federal immigration enforcement and emerging people's movements for racial, economic, and social justice.
More information to follow.
Friday, March 31 | Half Day
CUNY School of Law
CLE Credit Available