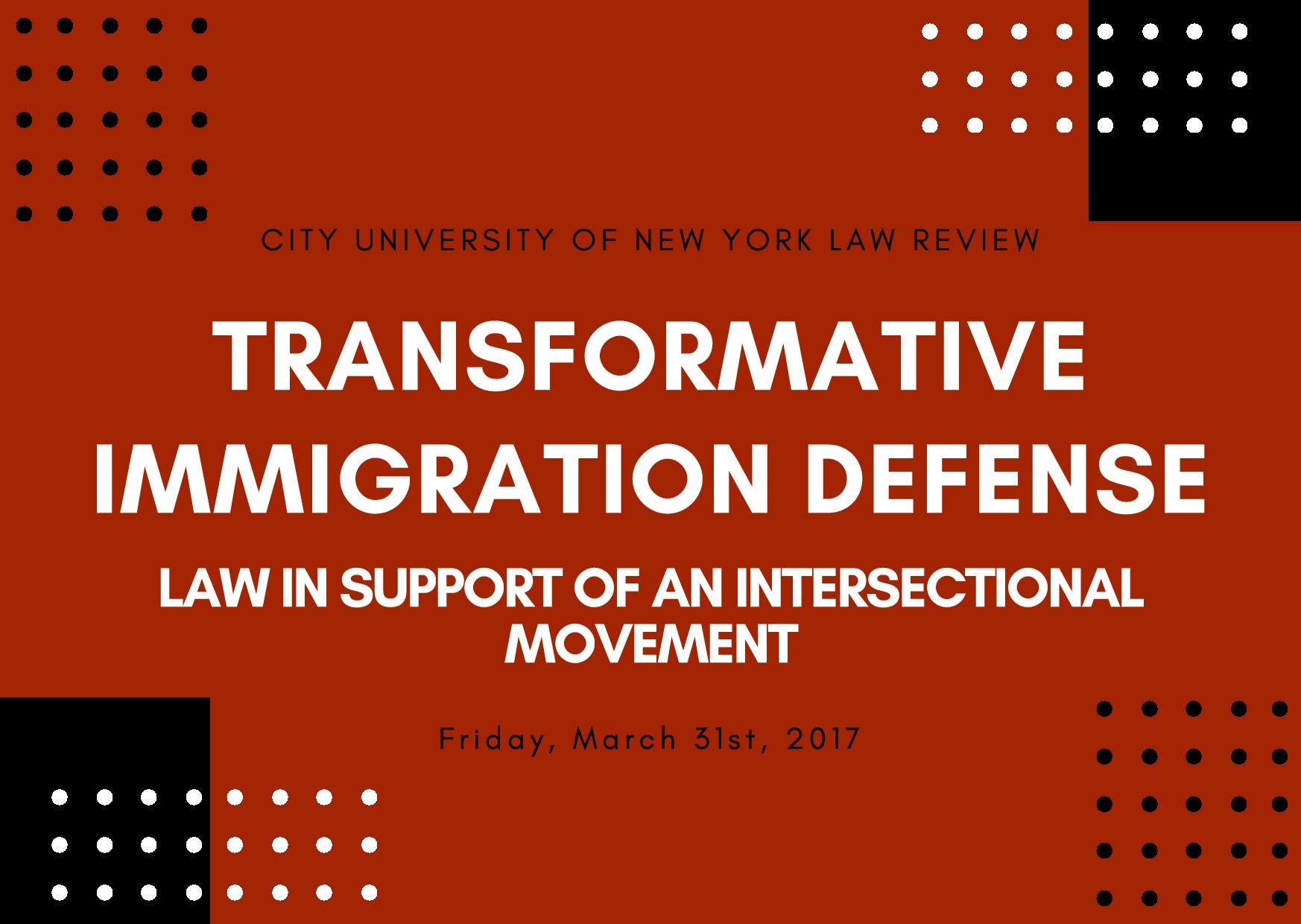 On Friday, March 31, 2017, the City University of New York Law Review will be hosting a Symposium entitled: Transformative Immigration Defense: Law in Support of an Intersectional Movement.
Below is more detailed information regarding the Symposium.
If you have additional questions please email us at: cunylr@mail.law.cuny.edu.
EVENT INFORMATION
CUNY Law Review's Symposium will explore the role of legal practitioners at the intersection of aggressive federal immigration enforcement and emerging people's movements for racial, economic, and social justice.
Federal legislation in the 1990s dramatically expanded the deportation and criminal enforcement infrastructure in the United States while vastly changing the legal landscape for poor communities of color, often with deadly consequences. More recent expansion of federal, state, and local national security operations have further targeted and surveilled Muslim, Arab, and South Asian communities. At the same time, multiracial movements continue to grow, change, and blossom. From #BlackLivesMatter to #Not1More, communities continue to organize, march, and build toward a more just future.
Organizing and legal action have reached a fever pitch following executive actions by the Trump administration to expand southern border enforcement, restrict immigration from a number of predominantly Muslim nations, and halt the resettlement of refugees and asylum seekers. As thousands of Americans take to the streets to combat these racist and xenophobic policies, this Symposium asks how members of the legal community can be part of an alternative vision for the future in which we can all be free.
By bringing together legal practitioners and organizers working on the front lines of multiple justice movements, this Symposium will explore what works (and what does not work) in past and current legal interventions. We will also ask how legal practitioners can best work in collaboration with intersectional movements for racial, gender, economic, and social justice towards a transformative and expansive vision for immigrant defense.
Programming will include a plenary session with advocates and organizers at the forefront of their fields, panel discussions, and a keynote address.
The Symposium is free and open to the public. Lunch and a concluding reception will be provided.
LOCATION
Friday, March 31, 2017|12:00 PM – 6:00 PM
CUNY School of Law
2 Court Square
Long Island City, NY
PANELISTS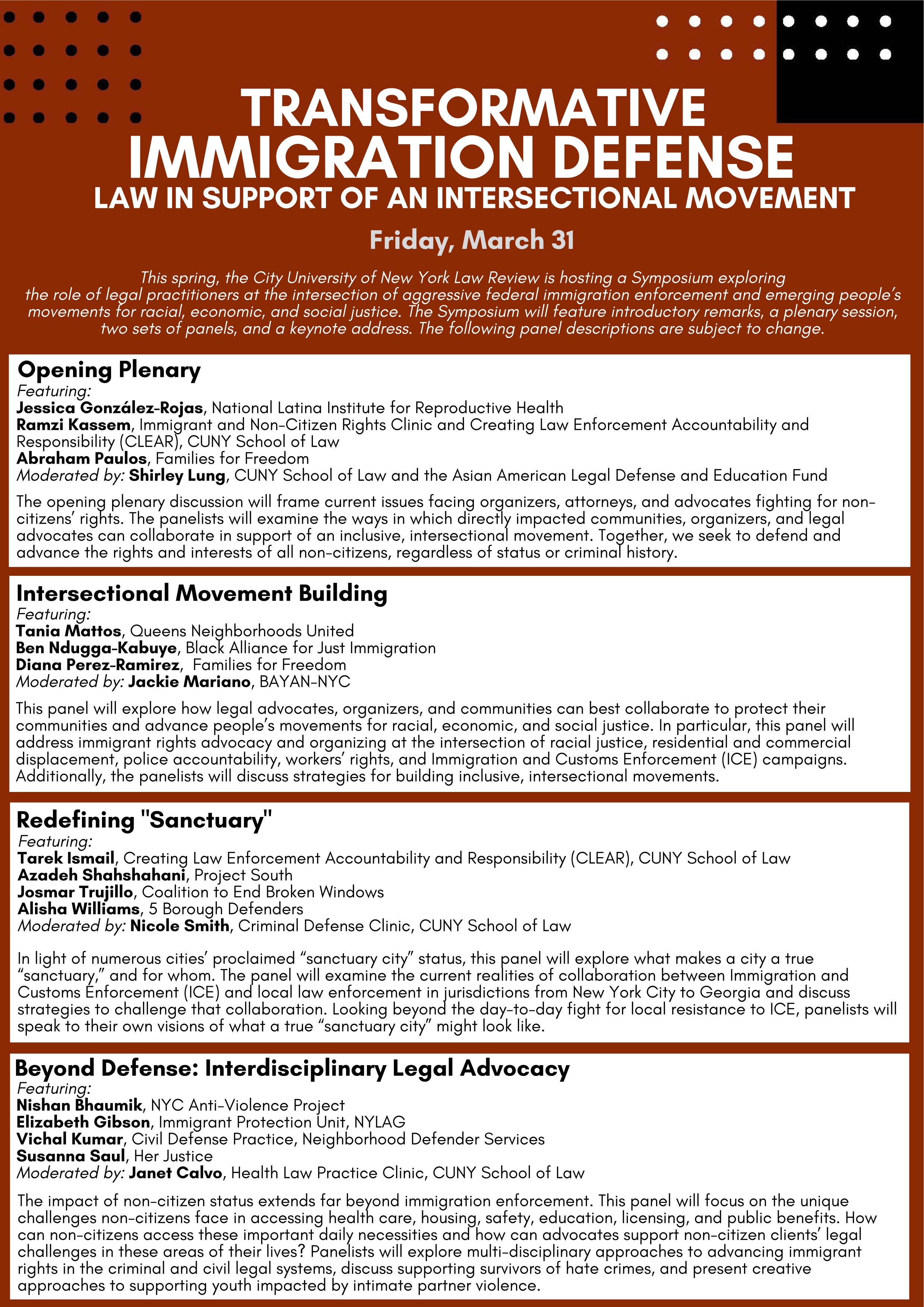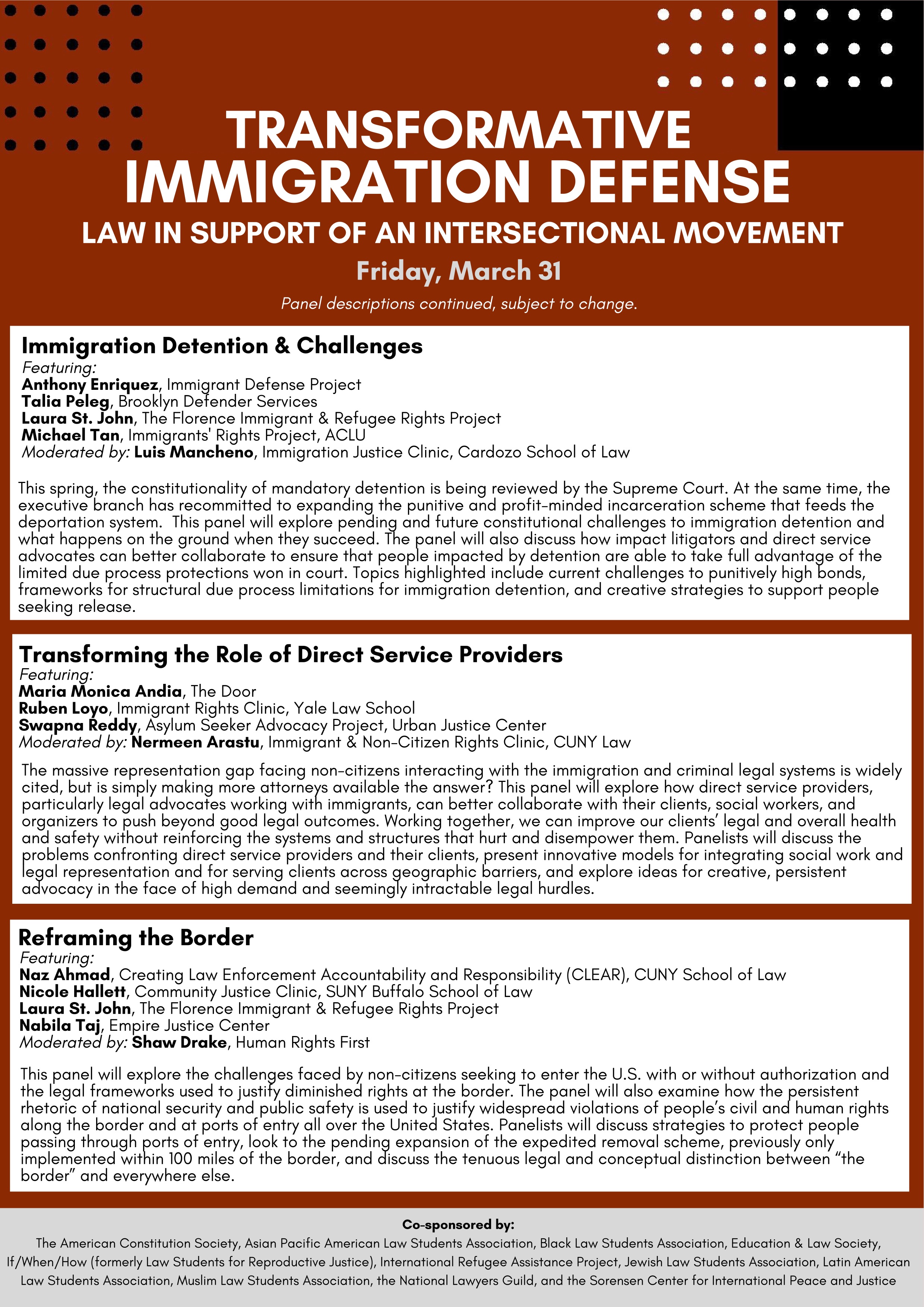 KEYNOTE
We are deeply honored to welcome Opal Tometi, co-founder of the #BlackLivesMattermovement and Executive Director of the country's leading Black organization for immigrant rights, the Black Alliance for Just Immigration (BAJI), as our Keynote Speaker for next week's symposium. Ms. Tometi will participate in a special session at 4:30 PM in the Auditorium, presented in collaboration with the Sorensen Center for International Peace and Justice.
PROGRAM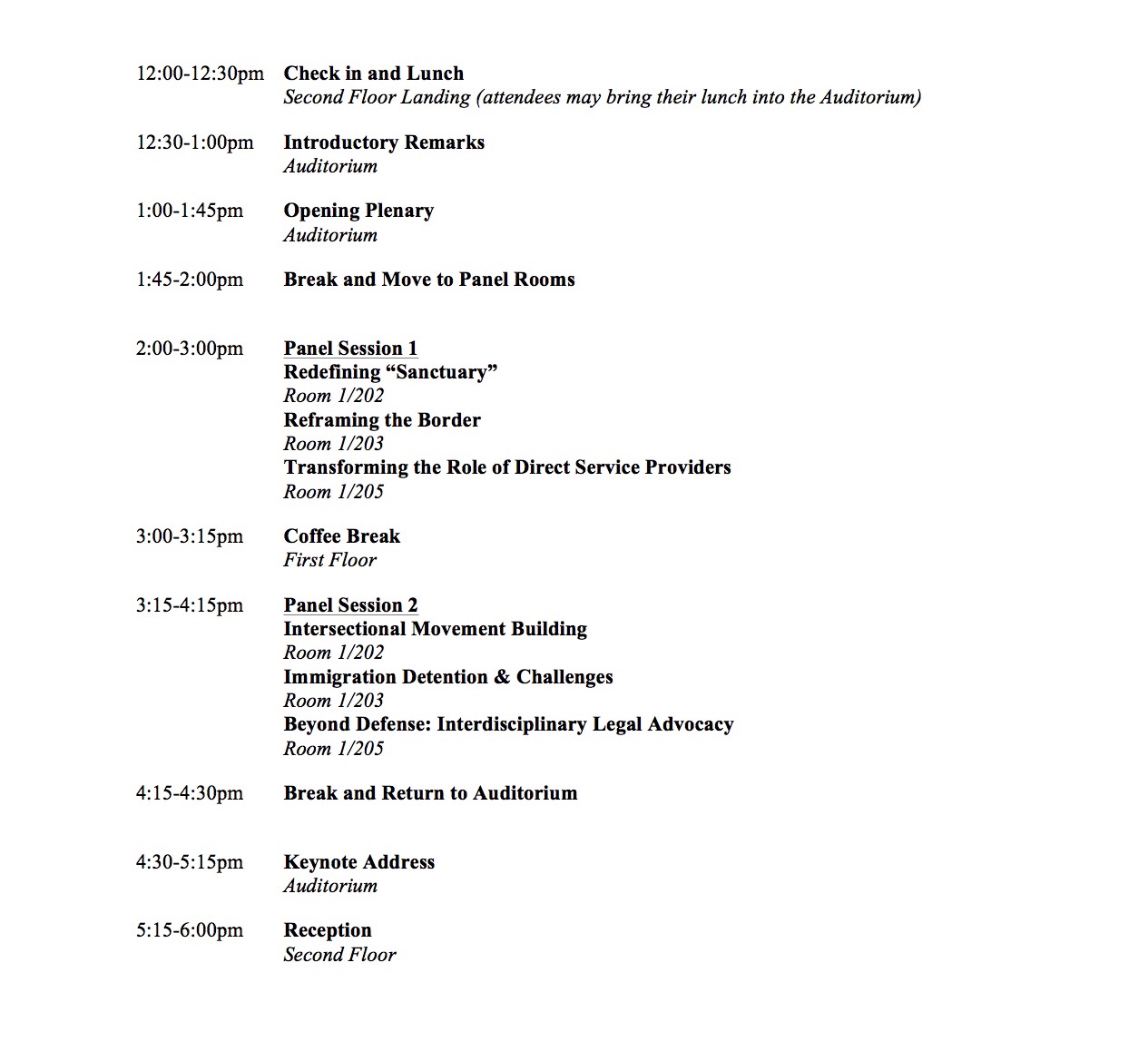 RSVP
CLE CREDITS
Each panel offering CLE credit will provide one professional practice credit. Please ensure that you arrive early so that we can sign in everyone who is requesting CLE credit. Below is the schedule of panels offering CLE credits.
Please register if you are interested in CLE credits.
UPDATE: CLE Materials are found in CUNYLR's DropBox.
CLE credit will be provided free of charge, however please consider donating to the CUNY Law Review and its efforts to bring you public interest scholarship and events you can donate here.
Note: select "Other" in the "Designation" drop down menu and type "CUNY Law Review" in the "Other" box.
Session 1 (2:00 – 3:00)
Redefining "Sanctuary" (CLE)
Reframing the Border (CLE)
Transforming the Role of Direct Service Providers (CLE)
Session 2 (3:15 – 4:15)
Intersectional Movement Building
Immigration Detention & Challenges (CLE)
Beyond Defense: Interdisciplinary Legal Advocacy (CLE)
SOCIAL MEDIA
For more immediate updates, follow CUNY Law Review on our social media platforms.
CO-SPONSORS
The American Constitution Society
AsianPacific American Law Students Association
Black Law Student Association
Education & Law Society
If/When/How (formerly Law Students for Reproductive Justice)
International Refugee Assistance Project
Jewish Law Students Association
Latin American Law Students Association
Muslim Law Students Association
National Lawyers Guild
Sorensen Center for International Peace and Justice