The City University of New York Law Review and CUNY Law Labor Coalition would like to invite you to a discussion on worker co-ops, Fire Your Boss: Workers Cooperatives, Community Development, and Social Change! The event, with dinner and book reception to follow, is taking place Monday, November 12, 5:30 PM, in the Auditorium. The discussion will feature: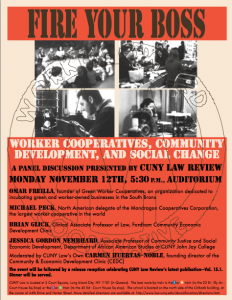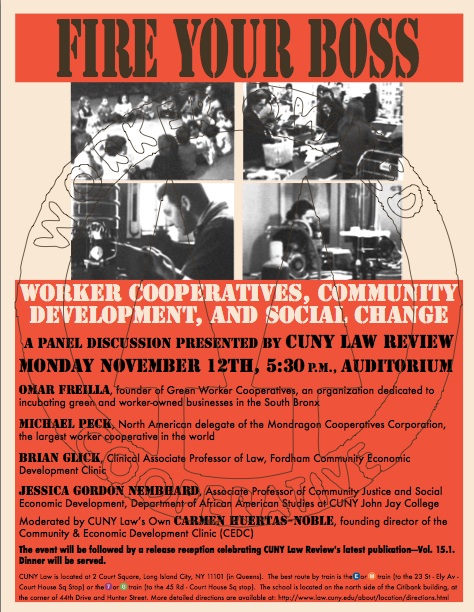 Omar Freilla, founder of Green Worker Cooperatives, an organization dedicated to incubating green and worker-owned businesses in the South Bronx
Michael Peck, North American delegate of the Mondragon Cooperatives Corporation, the largest worker cooperative in the world
Brian Glick, Clinical Associate Professor of Law, Fordham Community Economic Development Clinic
Jessica Gordon Nembhard, Associate Professor of Community Justice and Social Economic Development, Department of African American Studies at CUNY – John Jay College
Moderated by CUNY Law's Own Carmen Huertas-Noble, founding director of the Community & Economic Development Clinic
Come hear from our guests about why they believe worker ownership is a way out of the current economic and environmental morass, and their experiences helping to develop cooperative enterprises!
The event will be followed by a release reception celebrating CUNY Law Review's latest publication, Issue 15.1. Dinner will be served. Attendance is free!