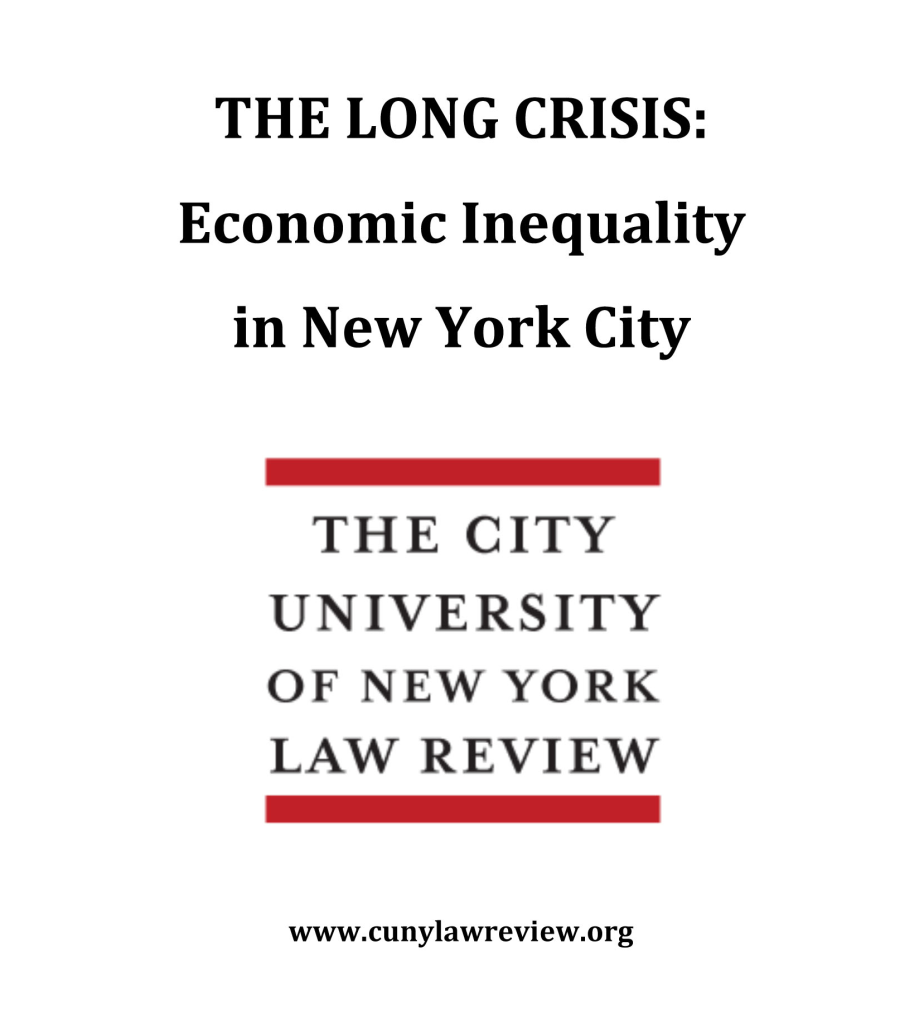 The City University of New York Law Review is proud to present "The Long Crisis: Economic Inequality in New York City", a panel event focusing on the role that economic inequality and injustice play within the context of social justice legal issues and practical solutions lawyers and activists are employing to help overcome the inequality.
The Law Review thanks our fellow student organizations for endorsing this event: Law Students for Reproductive Justice (LSRJ); Latin American Law Students Association (LALSA); Labor Coalition for Workers' Rights and Economic Justice; CUNY Law's National Lawyers Guild Chapter (NLG); Iraqi Refugee Assistance Project (IRAP); Students for Justice in Palestine (SJP); CUNY Law Association of Students for Housing (CLASH).
Our Panelists:
Fahd Ahmed: Acting Executive Director of DRUM – South Asian Organizing Center, a multi-generational, membership led organization of low-wage South Asian immigrant workers and youth in New York City. Fahd has been a grassroots organizer on the issues of racial profiling, immigrant justice, police accountability, and national security over the last thirteen years. He attended Vanderbilt University as an undergraduate, and went to the CUNY School of Law. Within DRUM, Fahd co-led the work with Muslim, Arab, and South Asian immigrant detainees before, and immediately after 9/11, by coordinating the detainee visitation program. Over the last three years, as the Legal and Policy Director at DRUM, Fahd ran the End Racial Profiling Campaign and brought together the coalitions working on Muslim surveillance, and stop and frisk, to work together to pass the landmark Community Safety Act.
Tom Angotti: Professor of Urban Affairs and Planning at Hunter College and the Graduate Center, City University of New York, and Director of the Hunter College Center for Community Planning and Development. His recent books include The New Century of the Metropolis; New York For Sale: Community Planning Confronts Global Real Estate, which won the Davidoff Book Award; and Accidental Warriors and Battlefield Myths. He is co-editor of Progressive Planning Magazine, and Participating Editor for Latin American Perspectives and Local Environment. He is actively engaged in community and environmental justice issues in New York City.
Stanley Aronowitz: Distinguished Professor in the Ph.D. Program in Sociology at the CUNY Graduate Center and Director of the Center for the Study of Culture, Technology, and Work. Professor Aronowitz does research on the sociology of education and the sociology of labor. He is the author of The Knowledge Factory; From the Ashes of the Old: American Labor and America's Future; Postmodern Education, and Education Under Siege, both written with Henry Giroux; and the classic False Promises: The Shaping of American Working Class Consciousness; and is author, co-author, or editor of several other volumes and over one hundred published articles for scholars and citizens. His current research interests include the role of new information technologies in schools and other workplaces and the development of critical curriculum.
Jennifer Jones Austin: Chief Executive Officer and Executive Director of the Federation of Protestant Welfare Agencies (FPWA), a prominent New York City anti-poverty, policy, and advocacy organization with 200 member human services agencies operating throughout New York City. She has more than twenty years of leadership experience working for the advancement of underserved children, individuals, and families in both the nonprofit and public sectors.
Shawn Blumberg: Director of Legal Services at Housing Conservation Coordinators, where he has advocated for tenants and immigrants for the last five years. He has been a civil legal services attorney for over eight years. He graduated from Emory University School of Law.
Robin Steinberg: Since graduating from the New York University School of Law in 1982, Robin has spent her entire career as a public defender. In 1997, Robin founded The Bronx Defenders, where she developed holistic defense – a client-centered model of public defense that uses interdisciplinary teams of advocates to address both the underlying causes and collateral consequences of criminal justice involvement. Robin has been honored by the National Legal Aid & Defender Association for her "exceptional vision, devotion, and service in the quest for equal justice," and by the New York Bar Association for her "outstanding contributions to the delivery of defense services." She has taught trial skills at various law schools, and is currently a Lecturer in Law at Columbia Law School, where she teaches a seminar on holistic defense. Robin is the author of four articles, including: "Heeding Gideon's Call in the 21st Century: Holistic Defense and the New Public Defense Paradigm" (Washington and Lee Law Review, Summer 2013).
Stephen Loffredo (Moderator): Professor at CUNY School of Law. He has litigated many path-breaking law reform cases, including actions that secured the right of homeless families in New York to safe and adequate shelter, established the right of single homeless shelter residents to public assistance and Medicaid, and vindicated the statutory entitlement of disabled New Yorkers to federal benefits worth over $100 million annually. He has written and spoken widely on the constitutional dimensions of economic rights and the role of wealth in a constitutional democracy. Professor Loffredo founded and co-directs the Economic Justice Project Clinic at CUNY.
ELIZABETH KOO
Editor-in-Chief
NABILA TAJ
PATRICK TYRRELL
Managing Editors
JULIE PENNINGTON
Managing Articles Editor
EMILY FARRELL
TANA FORRESTER
PIPS Editors
VIOLETA ARCINIEGA
CHELSEA BREAKSTONE
Digital Articles Editors
RACHEL NAGER
SYEDA TASNIM
Special Events Editors
REBECCA ARIAN
LI LITOMBE
Notes & Comments Editors

CATALINA DELAHOZ
JAMES KING
Executive Articles Editors
Fall 2014 Senior Staff Members
CHRISTOPHER BAE
BRETT DOLIN
JAMELL ISIDOR
AARON SAMSEL
SHABANA SHAHABUDDIN
CHASE VINE
KARA WALLIS
DIANA ARAGUNDI
PAULA BONDAD
SARA BOVILL
SAMUEL BRUCE
JONATHAN CANTARERO
VINCCE CHAN
AUBREE D'ALFONSO
AJANI J. DAVIS
RADHA DESAI
MAGGI FARMER
JEAN FISCHMAN
CAROLINA GARCIA
MARISSA GOLDFADEN BLEIER
JOHN GUYETTE
KELLY HERRMANN
ROBERT HUPF
SANA KHASHANG
LEONARD LEVEILLE
MIA LUKASHOVA
MARCELLA MARUCCI
JACQUELINE MEESE
ANGEL MELENDEZ
HODA MITWALLY
ALEXANDRIA E. NEDD
SERENA NEWELL
GUILLERMINA C. PASSA QUEVEDO
TOM POWER
MARC RAMIREZ
ANTHONY C. REZZONICO
JEANPAUL RIVERA
THOMAS RIZZUTI
BRENDAN RUSH
EMILEE SAHLI
ALANNA SAKOVITS
CHLOE SERINSKY
ALIYA SHAIN
JEANNINE SCHOOS
STEVE SUCCOP
ANDREW TABENKIN
LAILA SAIMA VARCIE
ANNA JAMES WIPFLER
SETH YORK
KRISTEN ZAPALAC