Join CUNY Law Review for some exciting events this fall in our 20th year of publication!
Bluebook Training
Join us for our semiannual Bluebook Training! We'll review common errors, oft-forgotten rules, and correct some sample law review citations together. Please bring your Bluebooks, any office supplies you use to mark important pages, and your computers!
Tuesday, Sept. 13 | 7:30-8:30 PM
Room 1/205
Note: a makeup training for evening students and others with immovable conflicts will be held on Wednesday, Sept. 14 from 8:00-9:00 PM in Room 1/204.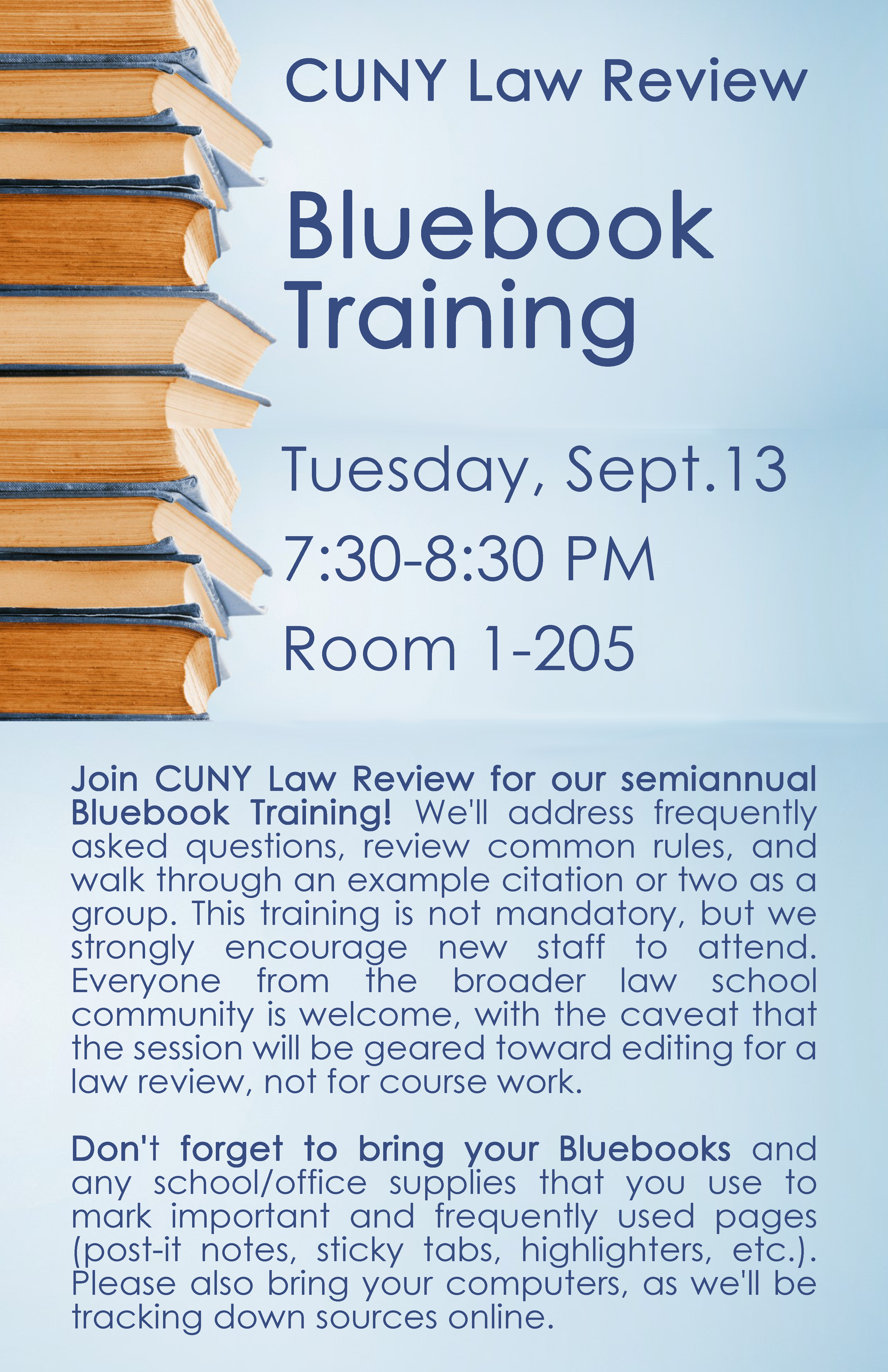 Welcome Back Happy Hour
We invite the whole CUNY School of Law community to join us for our annual welcome back happy hour! Help us kick off a new school year and celebrate the beginning of our 20th publication year.
Friday, Sept. 16 | 6:00-9:00 PM
The Beast Next Door
47-51 27th St
Long Island City, NY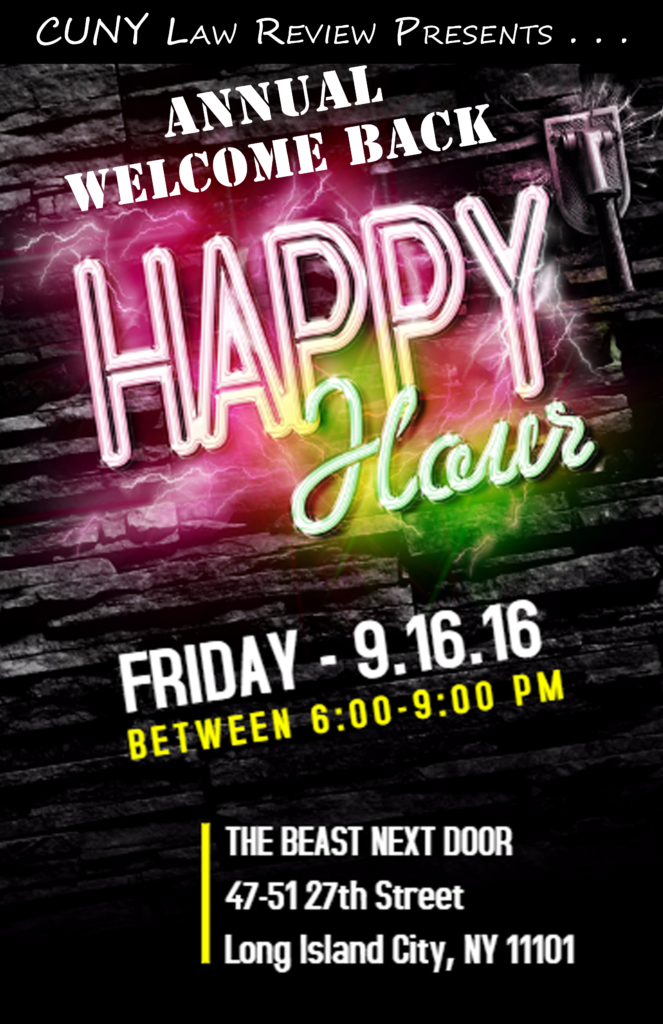 SCOTUS Preview
Save the date! Join CUNY School of Law Professors Janet Calvo, Jeffrey Kirchmeier, Stephen Loffredo, and Ruthann Robson for an evening discussion about the Supreme Court's docket for the upcoming term. Learn about contested public interest cases and hear predictions for when the 8-member Court might deadlock this term. This event is open to the public!
Thursday, September 29 | 6:00-7:30 PM
Community Room @ CUNY School of Law (3rd Floor)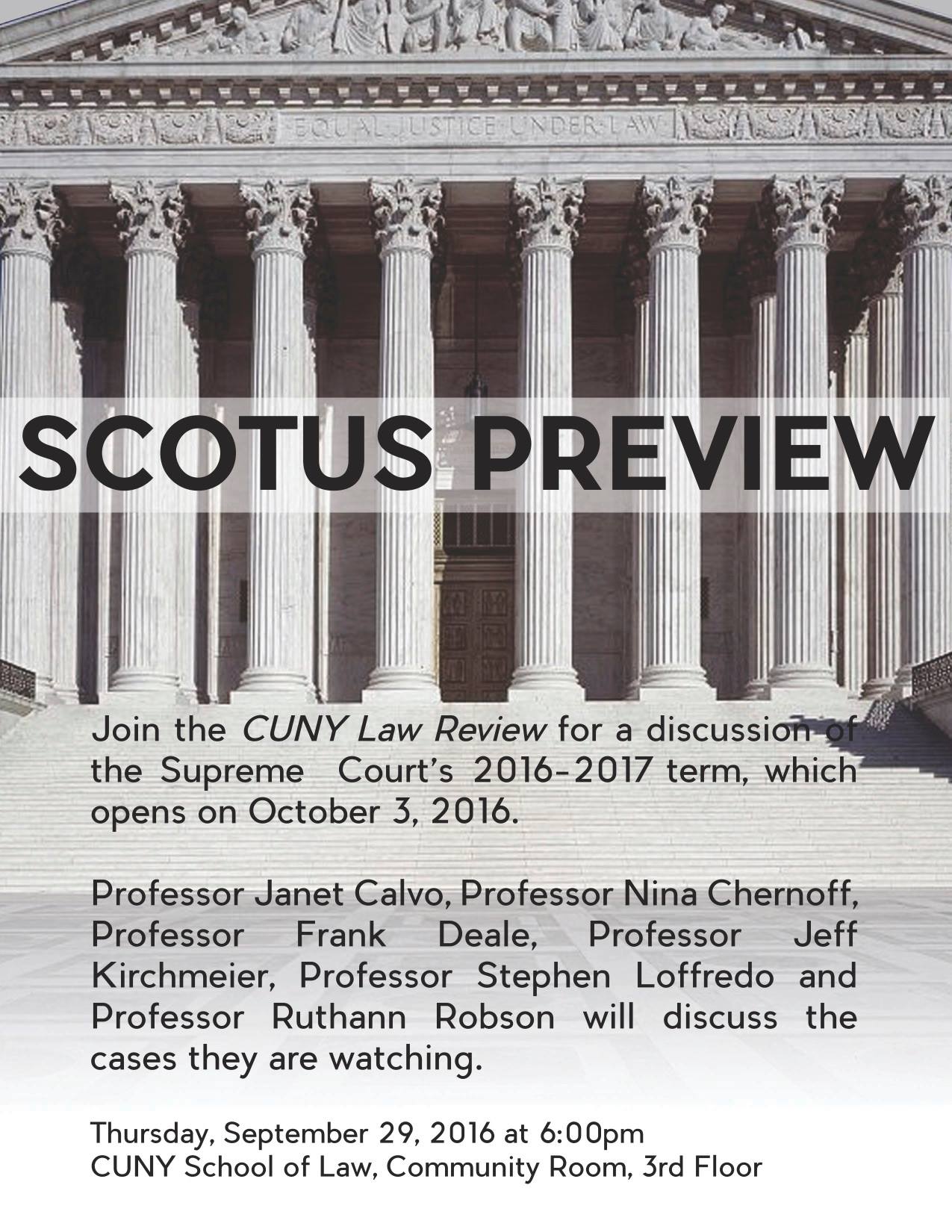 Lunch with Law Review
Join us to learn more about publishing as a student author! CUNY alums and current students will discuss how to navigate the process of preparing your scholarship for publication. Featuring Allie Robbins (CUNY Law '09, Assistant Dean of Academic Affairs), Tom Power (CUNY Law '16, CUNYLR Managing Editor '16), Navid Khazanei (3L, CUNYLR Executive Articles Editor '17), Shawn Simpson (Writing Fellow).
Wednesday, October 5 | 1:00 – 2:30 PM
Community Room, 3rd Floor
LUNCH PROVIDED (Taco Bar)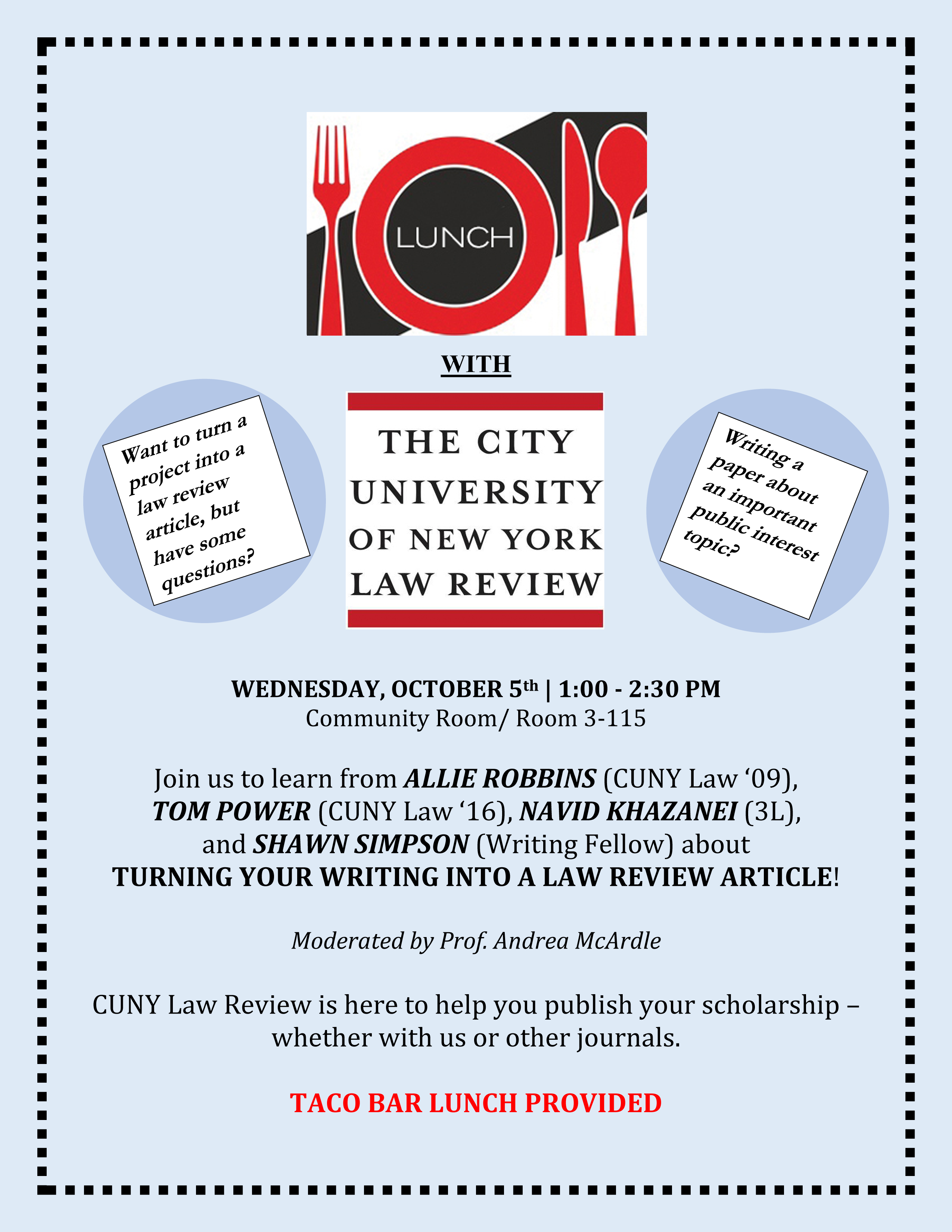 Perspectives on the Fight for Black Lives
Join us to learn about how and where to get involved in supporting the #BlackLivesMatter movement as a legal advocate. Panelists will include Erin Cloud of the Bronx Defenders, Carl Lipscombe of Black Alliance for Just Immigration, Thenjiwe McHarris of Blackbird and Vision for Black Lives, Victoria Phillips of the Urban Justice Center, and Anthonine Pierre on behalf of Communities United for Police Reform. Moderated by Chaumtoli Huq of Law@theMargins & CUNY Law's own Nicole Smith of the Criminal Defenders Clinic.
Monday, November 7 | 4:00 – 6:00 PM
Community Room, Room 3-115 [3rd Floor] 2 Court Square, Long Island City, NY
Sponsored by CUNY Black Law Students Association [BLSA], Law@theMargins, and CUNY Law Review.
Food will be provided. This event is open to the public & will be live-streamed (link forthcoming).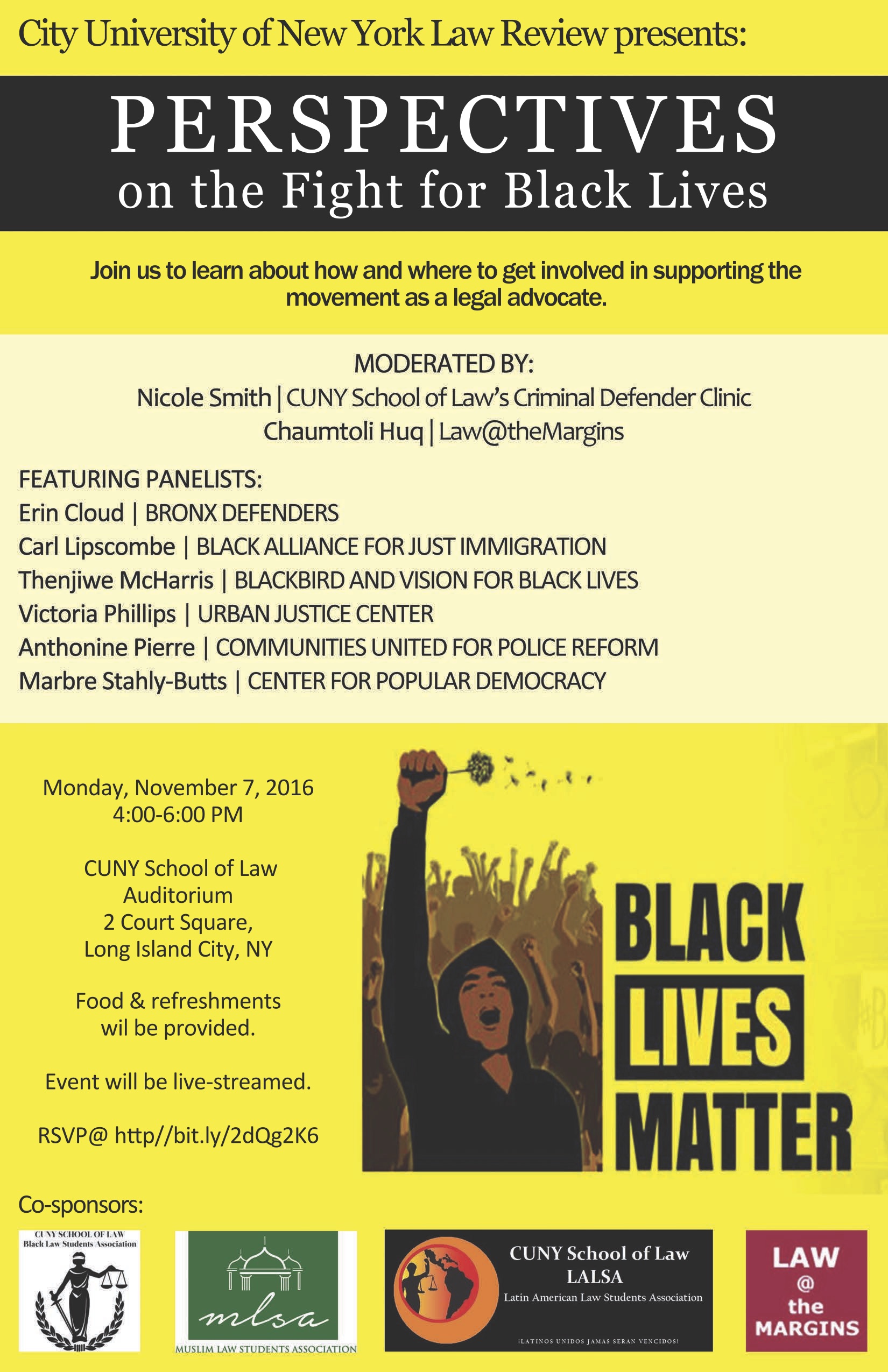 Street & Graffiti Art, Copyright, and Justice
Please join the CUNY Law Review and the Sorensen Center for International Peace & Justice for an exciting presentation and conversation with Dr. Enrico Bonadio, Visiting Scholar from City Law School in London.
Dr. Bonadio will discuss his research on graffiti, street art, and copyright law. He will address how corporations have used the work of street artists without compensating them for their work.
Thursday, November 17, 2016
Beacon Atrium (1st Floor at CUNY School of Law)
Reception: 4:30 PM (cannolis & coffee provided)
Presentation: 5:00– 6:00 PM
Join us afterwards for a Happy Hour at the Beast Next Door Cafe & Bar:
42-51 27th St, Long Island City, NY 11101