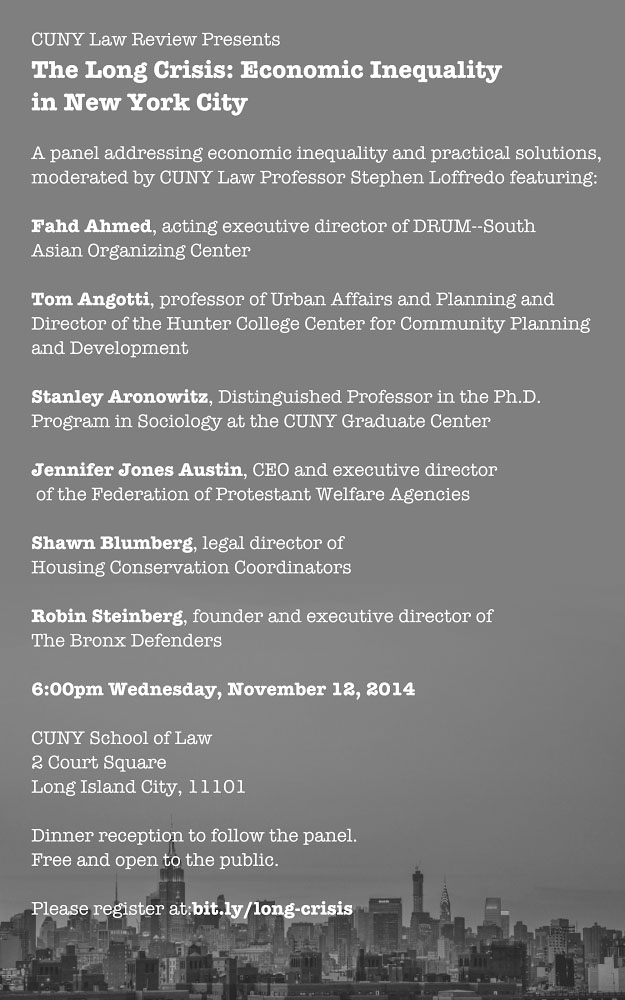 The City University of New York Law Review is proud to present "The Long Crisis: Economic Inequality in New York City" on November 12, 2014, at 6:00pm, at the CUNY School of Law (2 Court Square, LIC, 11101).
"The Long Crisis" will reflect the theme of CUNY Law Review's 18th volume: the role that economic inequality and injustice play within the context of social justice legal issues and practical solutions lawyers and activists are employing to help overcome the inequality.
The panel features Fahd Ahmed, acting executive director of DRUM–South Asian Organizing Center; Tom Angotti, professor of Urban Affairs and Planning and Director of the Hunter College Center for Community Planning and Development; Stanley Aronowitz, Distinguished Professor in the Ph.D. Program in Sociology at the CUNY Graduate Center; Jennifer Jones Austin, CEO and executive director of Federation of Protestant Welfare Agencies; Shawn Blumberg, legal director of Housing Conservation Coordinators; and Robin Steinberg, founder and executive director of The Bronx Defenders. A free dinner reception will follow the panel.
The event is completely free and open to the public, but it's necessary to register at bit.ly/long-crisis